Importing a CD using Nero

1. Introduction
2. Choosing a Compression Format
3. Directory Structure and File Names
4. Importing CDs using Nero
5. Importing CDs using iTunes
6. Converting LPS and Audio Cassettes in to a Computer Juke Box
When you insert a CD you may be prompted with a choice of CD drive.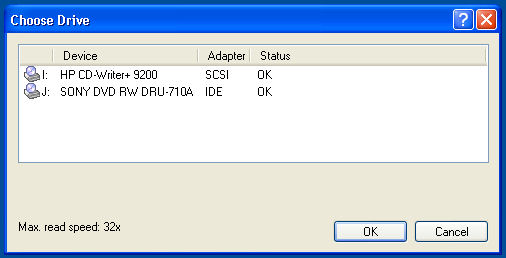 Nero provides full control over the import process. You can create AC3, Aiff, MP3/mp3PRO, Windows Media Audio, Nero Digital Audio (MP4), Ogg Vobis or PCM Wave files.
Each of the codecs also has options on the import quality required.
The Nero internet database is not as comprehensive as iTunes but you have the option of entering all the track titles and artists and submit to the internet database. Sometime in the future the details you provided will presumably be made available to others.
Some CDs have more tracks than listed on the back of the CD and also more than the Nero or iTunes databases provide. You then get a Track nn for the extra tracks.
If the list of tracks is available you can select that or provide your own list. Many albums have artist listed as "Various" with the artist and song under "Title". You have to watch for this and make changes to the "File name creation method" as well as the path for the tracks to be saved in.
You can select the CD entry found, sometimes from several choices or create a new list yourself.
You can't edit the list once selected but you have some control over the output file name for each track. Use Nero to import WAV files where you can easily control the file name template. If you want to play back an album in the order of the original CD then you need to store the track number as the first part of the file name (%N). You can then include artist and title, noting that artist may be listed as "Various" and the artist's name forming part of the "Title".
Saving wave format files retains the full uncompressed CD quality but the file does not hold title artist and album information. Although the conversion from the wave file to MP3 or ACC format gives the same file that would have been made if converting directly the compressed file has track, artist and album labels blank. iTunes will also take the long name format used to save artist and title in the wave file name and truncate it. You can edit the file name but this is more hands on work. Conversion of the set of wave files also results in all the ACC tracks being placed in the "unknown" artist and unknown album directories. You then have to organise the tracks manually.
Even if iTunes is directly used to make the MP3 or ACC file it may truncate the track title. For this reason import once using Nero to create a set of wave files and then again using iTunes to create a set of ACC files which also usually creates an adequate directory structure from the albums titles.
---
Last updated 2nd September 2008